"Let your conduct be without covetousness; be content with such things as you have." Hebrews 13:5a

Have you ever experienced true contentment at any given moment in your life? I think I have found it in this moment of mine.

My husband & I have felt so blessed over this past year that we can't help but feel content with everything. We are nicely settled into our tiny snug house & can't think of anything more we could want but to be together in it.
Oh we have certainly done some renovating & painting here & there, a bit of new flooring & stuff like that, but I'm talking quality of life contentment. We don't desire the 'bigger & better' things of life. Its easy to look around at the people we know & think we would want a bigger house, a fancier truck, an exotic vacation etc. But right now, we just don't. We have found ourselves at a place of contentment & we're happy to be in it. We call it our bubble. And we are happy inside it. Reality is quick to burst bubbles these days. People find a spot of happiness or peace & the real world finds ways to damage it.

This time of year, Christmas Shopping Season, we are certainly bombarded with covetousness & discontentment. Advertisements tell us to want & buy & consume & spend! Gift giving has also been a part of my family traditions. Its something we enjoy doing for eachother but its certainly easy to get carried away. Every single year, some statistic will tell us that 'people are spending more this year than last year'. Most marketing schemes are designed to make you WANT something better than what you have. Its hard to find a contentment in a world of consumption.


My wish for you in this season of consuming is that you find your place of contentment amidst the demands for wanting, spending, giving & getting.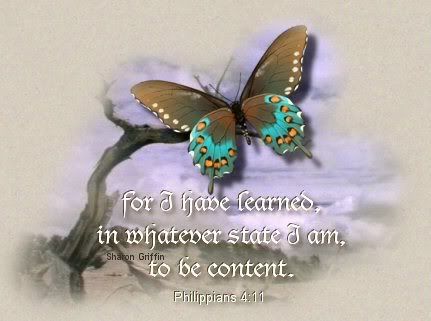 Graphic by In His Image Graphics