Mount Kilimanjaro! The Roof of Africa! The highest point on the continent and the tallest free-standing mountain in the world. This week I have been remiscing about this fantastic mountain as it was two years ago that I stood on the top of it! One of the most exciting & proudest moments of my life. Oh, it isn't a very technical mountain, as far as that goes. It's more of a challenging hike, you just need strength, endurance & perseverance to get you to the top as opposed to mountaineering skills.

Africa is definitely a fascinating continent. I was at a point in my life where I needed to get away & I needed a challenge. As an avid hiker, I had a hiker friend tell me about Kilimanjaro and suddenly a desire was growing in me. Not only did it seem like a great challenge but it was located in this far off land of amazing animals, exotic people, diverse cultures and beautiful landscapes. I had to go.

Aside from all the wonderful things I saw & did while in Africa, climbing Kili was the reason I was there. It landed in the middle of my trip and I got so nervous as the days drew closer to my climb. When I finally got to Arusha, in Tanzania, I was introduced to my climbing partners, Uli from Germany & JP from Denmark, as well as a team of porters & guides. We were so excited to get started.



Our Team
One term you repeat every day while on Kili is "Pole-Pole" which is Swahili for slowly! And here more than ever PATIENCE is a virtue. It was tough going, that is for sure, but it wasn't until the final ascent where I had to find something bigger than myself to get to the top. Imagine getting up at midnight, to climb the steepest & most dangerous part in the dark. Its freezing cold, the snow is falling & the wind is blowing and you're just going up, following the guide with no indication that you're near the top, other than knowing that we will be summiting at sunrise.

My toes were freezing, I was exhausted, I just kept looking over my shoulder at the horizon where the sun would be coming up, hoping to see an indication of light to tell me we were almost there. I wanted to quit but the fear of going DOWN in the blackness of night was just another motivation to keep going up & trusting the guide.

When I thought I had nothing left in me, I found some encouragement by remembering & reciting every Bible verse I could think of that spoke of strength, endurance & help. I thought of favourites like:
"But those who wait on the LORD shall renew their strength; They shall mount up with wings like eagles, they shall run and not be weary, they shall walk and not faint." Isaiah 40:31
"For we walk by faith, not by sight" 2 Corinthians 5:7 (it was dark)
"lead me to the rock that is higher than I" Psalm 61:2
" I lift up my eyes to the hills, where does my help come from? My help comes from the LORD, the Maker of heaven and earth. He will not let your foot slip, he who watches over you will not slumber." Psalm 121: 1-3
"Wait on the LORD; Be of good courage, And He shall strengthen your heart; Wait, I say, on the LORD!" Psalm 27:14
And when I couldn't think of anymore, I just kept repeating "I can do all things through Christ who strengthens me" Phillipians 4:13
I made it to the top, and all the way back down & found my strength in the word of God! Are you facing a challenge in your life. I hope that you can find some strength in these verses as well!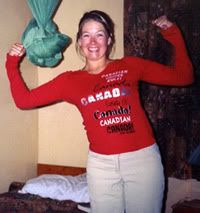 I DID IT!!!