Like a walk in the park. When someone uses that term its usually to imply that something is EASY. Ha! Today I went for 'a walk in the park' and it was anything but easy! Winter loosened its grip on us this morning & made for a beautifully warm day, hovering around zero. So I packed myself up to get out of the house & get some fresh air & find some fresh photos. I headed to Hayne's Point. My favourite park to visit & one close enough to walk to. However, the light dusting of snow made the walking no less than treacherous! Though the new snow provided a crunchy bit of texture for my boots to grip to, how surprised I was to find the layer of solid ICE an inch below this nice crunchy snow. Slipping & sliding through the park, I gave in to the fact that I would have to walk like a penguin to get through the park in one piece. How I wish I could have slid on my belly across the ice like penguins do instead of watching my every step with fear. It made it hard to sight-see when I was so cautious of my footing. Some 'walk in the park'!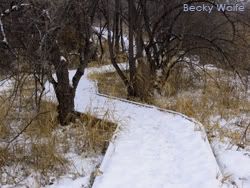 Still, I managed to scoot my way down the paths to my fave vantage points for some snow shots. The sky was slightly overcast which is perfect for snow photography, in my opinion. And there were bird & critter prints all over the snow. Fascinating. I could tell exactly where the local beavers had been & which hole in the ice they came in & out of. There was a very peculiar set of dog prints that I followed with wonder. There was one long line through the prints like it was on a single ski. I stared at it for a while & then concluded that his owner probably dropped his leash & let him walk himself for a while, the leash dragging in the snow behind him. Sound reasonable?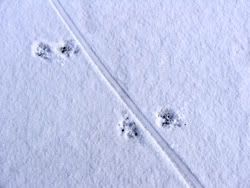 I saw a lot of dog prints on the shore when I was walking on the road nearest the waters edge (this park is surrounded by Osoyoos lake on both sides) I went down to check them out & noticed that it was relatively easy to walk along the shore because there was no ice build up. So I could give up the penguin walk and trot along without staring at my feet. I also noticed that some parts of the ice on the snow-covered lake had been pushed together to form some great cracks. Down on my knees, using my elbows as my tripod, I found fantastic ice caverns with stalagtites & stalagmites in the world of macro photography and there I crouched, lost in this divine world of ice!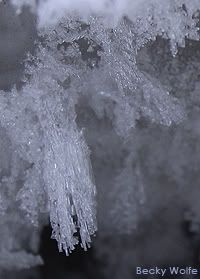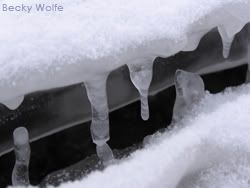 So my walk in the park ended up being a fantastic time of discovery & photography! Maybe it wasn't easy, but it was very ENJOYABLE!