Squirrel munching off all the bark from this tree branch


(thought of you Lone Grey Squirrel)
"These all wait for You, that You may give them their food in due season. What You give them they gather in; You open Your hand, they are filled with good." Psalm 104:27-28
Went for a stroll, camera in hand, to my favourite Provincial Park, Hayne's Point again on the weekend. Its only about a 10 minute walk from my house so I go there as often as I can. I never come home without a few interesting photos. All the snow is melted there except for the ice on the 'lagoon' and the birds and critters are starting to come out of winter hiding.
As I walked I noticed two squirrels up in a tree, peeling off the bark like mad. Guess they didn't store up enough this winter & were coming out for some fresh almost-Spring bark. They didn't seem too bothered that I stood beneathe them and snapped a few photos.
I also walked on the paths through the protected wetland portion of the park. And I discovered a somewhat humourous tragedy...
I guess the beavers have been BUSY in the last couple weeks. Most of the trees in this park have chicken wire wrapped around the bottoms to prevent this but I guess those clever beavers found the one tree that didn't. I chuckled as I took the photo. But then I realized that this was one of the nicest trees in the area for beautiful fall foliage. I have several shots of its vibrant yellow leaves against a saphire blue sky. A couple more nights and this tree will be ancient history. Food, shelter & dam materials! Whatcha gonna do?
I have yet to see any of these beavers up close, but at sunset, I have seen them swimming out in their lagoon. Its quite a big lagoon/pond that they've created for themselves and they are heavily protected from prying eyes or visitors pets because the pond is surrounded by reeds/bull rushes. It is a beautiful haven at all times of the year for me.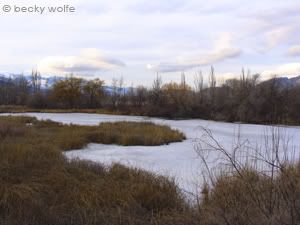 Still iced over
I never cease to be amazed at how well God provides for His animals.
"Look at the birds of the air, for they neither sow nor reap nor gather into barns; yet your Heavenly Father feeds them. Are you not of more value than they?" Matthew 6:26
"He gives to the beast its food, and to the young ravens that cry. " Psalm 147:9