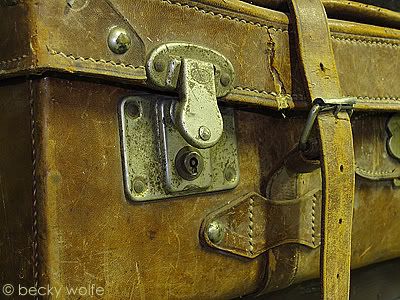 "Casting all your care upon Him, for He cares for you." 1 Peter 5:7
Our local photo club had a group outing this past weekend to our very own museum. There was only about 7 or 8 of us at the event but the museum was sad to hear that only 1 person in our whole group had ever been to the museum before. An old relic of a building, they are crying for funding and donations. Its sad that its own town doesn't come out to support it. I'm no exception. Sometimes it feels like one museum isn't much different than the next. I enjoy looking at a few old things but usually, after I've seen them once, I don't really desire to see them again. So it goes with a starving small town museum.
In any case, it was an interesting place for photography. Very challenging due to low light & lots of stuff behind glass. Tri-pods were necessary and really slow shutter speeds to allow maximum light into the shot.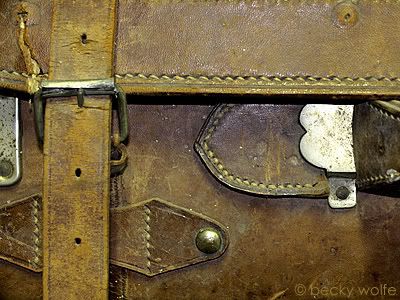 I became fascinated with making close up shots of some old suitcases. I loved the detail in the stitching & the clasps. The rough orange-brown leather was textured & worn. I spent a good time up close & personal with these pieces of baggage. So long that my fingers & toes were cold.
It sort of made me think of how I deal with 'personal baggage'. Sometimes I can't let go of it, can't forget about it so I spent a lot of time with it, thinking about it, sorting it out, sharing it with others. Our cares and our worries and our sorrows. Its very human of us to spend a lot of time focused on our baggage. Some people share their baggage with others, sometimes in hopes for sympathy, hopes for support or it just feels better to talk about it. However, baggage will eventually become a burden, not just because you can't let go of it, but you will burden others with it too.
Have you ever had to spend time with someone who seems morose or melancholy at all times. Or worse, angry or grumpy about it. Because of their baggage. They can't stop thinking about it, can't stop talking about it & feel the world owes them something because of it. And you're the one that has to be in the presence of this baggage carrier more often then you would like to be. You have to hear about it, sympathize or pretend to give sympathy. Or sometimes you're just sick & tired of having to hear about it. Or perhaps you're the one over-abundantly sharing your baggage and you don't realize everyone around you is also tired of it.
If its you with the never ending baggage, its time to talk to God about helping you get rid of it, or at least ease the burden. He says

"Take My yoke upon you and learn from Me, for I am gentle and lowly in heart, and you will find rest for your souls. For My yoke is easy and My burden is light." Matthew 11: 29-30



And if its someone near you that shares their baggage the Lord says this

"Bear one another's burdens" Galatians 6:2

Pray for those who seem to carry the weight of the world on their shoulders. You may not be able to help ease their worries or cares, but you can take it to God.